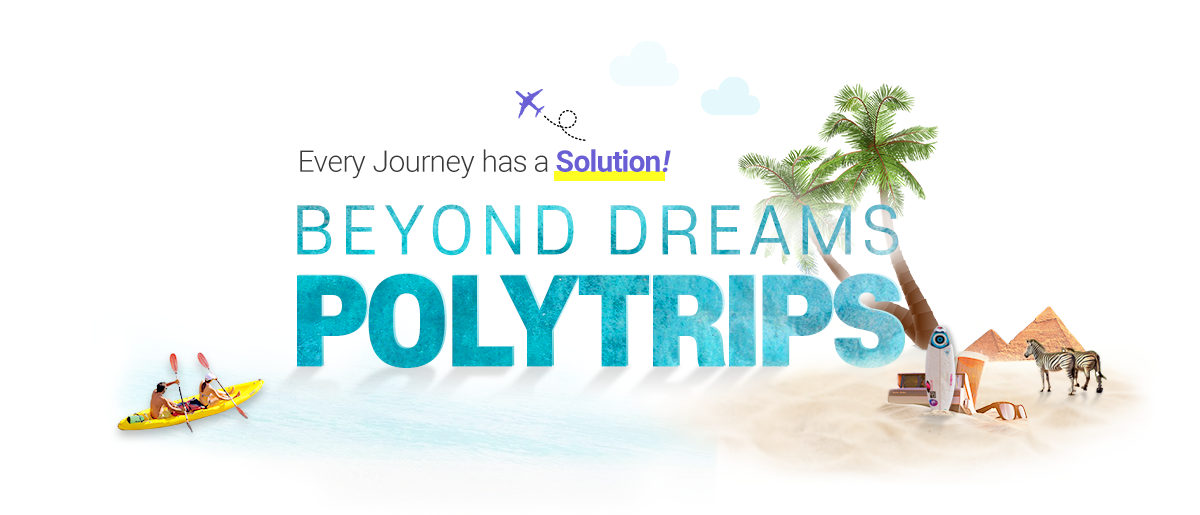 I don't have time

to plan my trip!

I don't like

being dragged around!
We have

you covered!

Save time and money with

our personalised tour packages!
POLYTRIPS is Unique!
Meet people from
Around the world! Start your journey individually,
then, travel together as friends!

Created for Travellers,
by Travellers! Our expert travel team curates trips to be examplary

Great Value
Travel Experiences Our network is your network

Global Customer
Support English, Chinese & Korean language customer support available
Our mission is to provide traveller-centric experiences
to ensure your journeys are hassle free and enjoyable!
No Mandatory
Shopping!

No Additional
Guide Tips!

No Obiligatory
Tour!
Experience Exceptional Travel
with POLYTRIPS
01 Experience Exceptional
Food and Accommodation

Outstanding food. Outstanding accommodation. Outstanding hospitality

02 Experience Exceptional
Your Stay

More freedom to relax. More freedom to experience. More freedom to enjoy.

03 Experience Exceptional
Themes

Trips for foodies. Trips for nature lovers. Trips for sports enthusiasts! We are sure to have a theme that suits you

04 Experience Exceptional
Hosts

Our hosts help. Our hosts care. Our hosts make your journey memorable.
POLYTRIPS Reward Program
Recommend Friends
Recommend POLYTRIPS to a Friend to earn


Member Benefits!

The more friends who sign up,


the more Polychips rewards you earn.
Earn Rewards
When you Signup, you get a

Welcome gift!

Earn Polychips

by travelling, and by recommending friends *
Use your

Polychips

to book your next adventure.

VIP Only

*Terms & Conditions apply.
POLYTRIPS Membership Benefits
As a member of the POLYCLUB Community
we would like to give you a gift for your travels.
Travel once a year or less!

Basic Membership

Free Registration

Travel at least twice a year!

VIP Membership

Yearly
Membership US$ 49.99
Basic Membership Benefits
Welcome Gift **

Access to POLYTRIPS

Reward Program **

Free Travel Information Courtesy of our

E-Magazine

(coming soon)

Access to

POLYCLUB Community and Events

(coming soon)

**Welcome Gift and Reward Program may differ depending on the membership type.
VIP Membership Benefits
VIP Welcome Gift

: 200 Polychips + VIP Vouchers (Value: US$300)

Double Bonus Points

VIP Bonus

Earn Additional

Polychips

when you book your first trip

VIP Bonus

No Booking Fees

No cap on PolyChips use

when making reservations
Access to

POLYTRIPS Travel Auction Program
About Memberships

Sign Up

Free

US$49.99 / year

POLYTRIPS Access

Booking Fee

Not applicable

Not applicable

e-Magazine

Community Access

Polychips

Start from US$ 2 = 1 Polychip

Start from US$ 1 = 1 Polychip

Welcome Gift

-

Polychips

200 Polychips

-

Upgrade Gift (Coupon)

US$10 x 2EA For Polycations

US$20 x 2EA For Polycations

US$20 x 2EA For Polytrips

US$50 x 2EA for Cruises

US$100 x 1EA for Cruises

Bonus

-

First Booking Extra Points

200 Polychips

Referral Program

-

All Members

Referral Benefits x 3EA

-

VIP Member

500 Polychips

Redeem Polychips

Unlimited

Auction

Validation on Polychips

2 Years

2 Years
Diverse Travel Programs
POLYTRIPS Bespoke guided travel experiences (with hotel & activities/tours included)

POLYCATIONS Curated hotel packages (great prices and added benefits)

POLYCRUISES Group cruises (with enhanced experiences & support)
Unique destinations; e.g., Antarctica, Arctic Circle, Galapagos Island

LOCAL ACTIVITIES Regional specific activities & events especially for our members

CHARITY EVENTS Supporting charities in different locations e.g., school development project(Indonesia), orphanages(various)

PRIVATE TRIPS Creating private trips for corporate clients/private groups
Designing and organizing exclusive trips for individuals *

*Terms & Conditions apply
POLYTRIPS, Helping You
See the World Differently