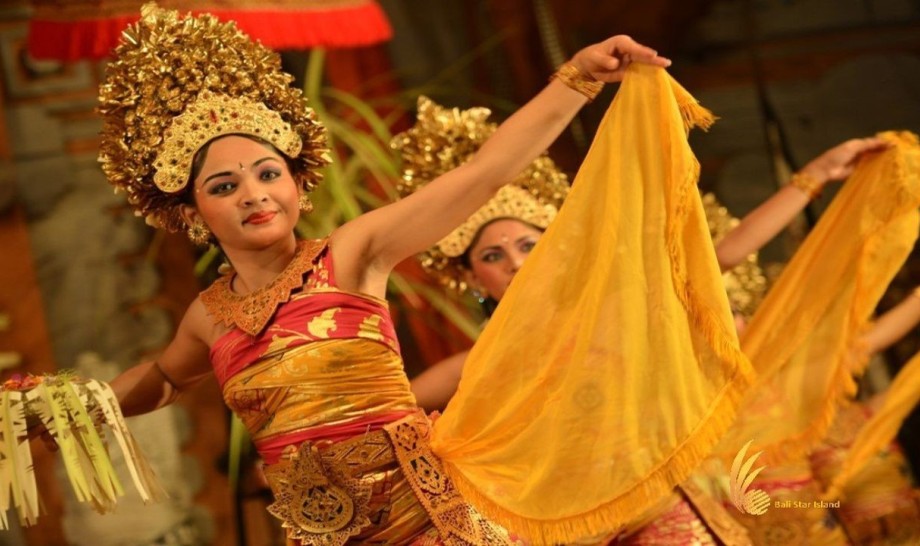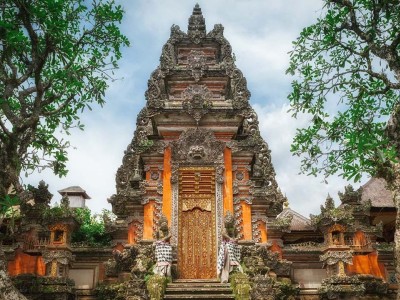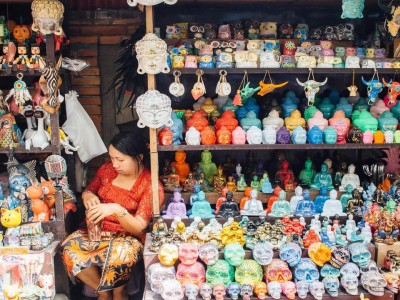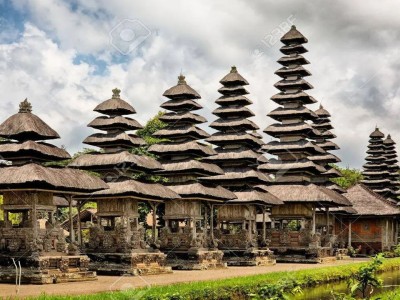 Bali Cultural Tour through Dance & Music

Aug 19-23, 2022
5 Days 4 Nights
In 2015, threee genres of traditional Balinese Dance had been recognized as an UNESCO Intangible Cultural Heritage. In our tour, you are given an opportunity to dance with professionals. Just simply relax, feel the rhythm and move your body!

Know before you go. COVID-19 Travel Advisory
more

COVID-19 Travel Advisory
COVID-19 pandemic is impacting travel around the world.
Restrictions may be placed on travel to certain locations. These restrictions may limit or entirely prohibit your ability to travel and/or stay in hotels or other forms of accommodation. We encourage you to check before booking whether travel and staying in accommodation in the chosen location is possible, and purchase the travel insurance to get appropriate coverage.
Domestic travel restrictions
If travelling locally, check the COVID situation, health guidelines, travel requirements for each individual state/ area.
International travel restrictions
Ensure you meet the current travel regulations and advisories for your departure point, destination, and any transit points. This includes border declarations, vaccination requirements, testing and quarantine requirements.
It is the responsibility of the traveler to review and comply with all latest travel requirement for both departure from and/or entry into any selected destination/country. As the situation is rapidly changing, we highly encourage you to check officialK government sources often to stay as up-to-date as possible, before and during travel. Individual travel services providers may impose safety measures as well in accordance to authority's restrictions.

From all of us at POLYTRIPS
"Travel safe and get back on the road!"
About the trip
Ubud is the town of arts and culture in Bali. Apart from the dancing class, you may get to know more about the traditions and spiritual life of the Balinese through visiting different famous landmarks in town.

Don't miss out the chance enjoying your vacation on the beach! You will also be taken to the Nusa Penida Island which is the largest and most exotic of the 3 Nusa islands in Bali.

You will also get to enjoy your farewell dinner at Jimbaran Beach, a small-secluded beach area where tranquillity and perfect peace is the perfect antidote to a stressful world.


Estimated Group Size
22 - 40

No Pregnant Lady

Free Day

English/Chinese

Accommodation

Host Included

Beach

Airport Transfer
What's Included
4 nights accommodation with daily breakfast
Meals Included: 2 lunches and 3 dinners
Complimentary 24 hours WiFi connection in Hotel
All transportation between destinations and to/from included activities
1-hour Balinese Dance Class
Full day tour to Ubud
Full day tour to Nusa Penida Island
Round-trip airport transfers
Airport representative from 9:00 a.m. to 6:00 p.m.
Professional English or Chinese-speaking tour guide
Gratuities for the tour guide and driver
Host Service
Closest Airport
DPS
Ngurah Rai International Airport
DPS
Ngurah Rai International Airport
Transfer Service
Roundtrip airport transfers are included as follow:
Airport Pick up
Date: 19 Aug 2022
Schedule: 10 a.m., 1 p.m., 4 p.m. or 6 p.m.
From: Ngurah Rai International Airport (DPS)
To: Nusa Dua Beach Hotel & Spa Bali
Airport Drop off
Date: 23 Aug 2022
Schedule: 9 a.m., 1 p.m., 4 p.m., 6 p.m.
From: Nusa Dua Beach Hotel & Spa Bali
To: Ngurah Rai International Airport (DPS)
Please note:
Transfers are provided only for the airport(s) / train station, dates and times listed above.
To arrange your airport transfers, please login to
My Booking
page to submit your flight details.
Submission deadline on or before
5 Aug 2022
. All information must be submitted via online, submission through other channels is not accepted.
If you do not submit your information on or before deadline, the transfer services will not be arranged.
About Accommodation
Nusa Dua Beach Hotel & Spa Bali which locates along the impressive coastal shore of Bali is a 5-star diamond hotel. It welcomed kings and queens, presidents and other dignitaries over the years since its grand opening. Balinese interior design and furniture, stunning view in each guestrooms make it the best place for your stay in Bali.

Check in time: 3 p.m.
Check out time: Noon

Nusa Dua Beach Hotel & Spa Bali
Kawasan Pariwisata Nusa Dua, Lot North 4, Nusa Dua
Bali, Indonesia

*Hotel may collect a deposit by cash or credit card for incidental expenses upon arrival.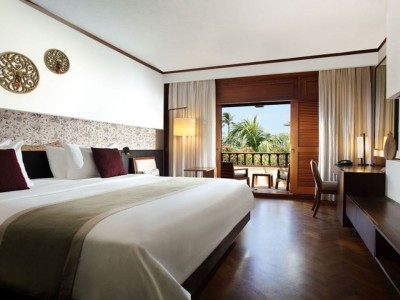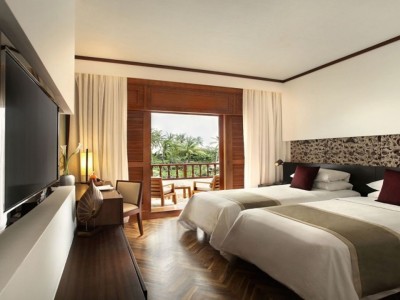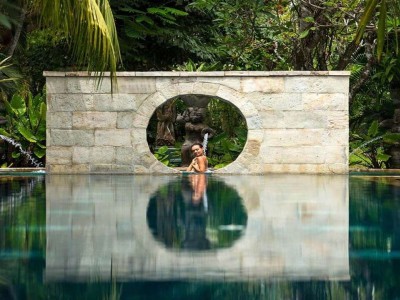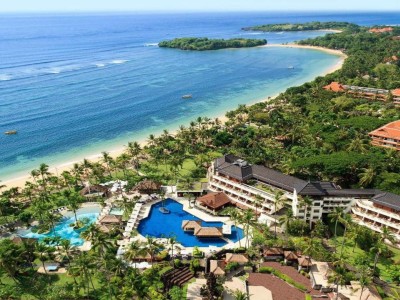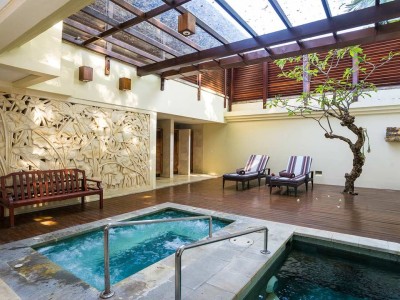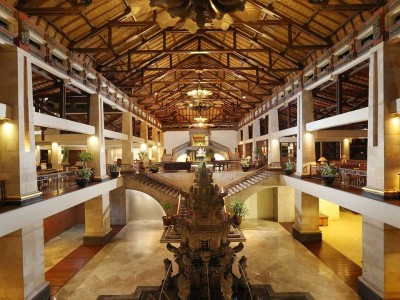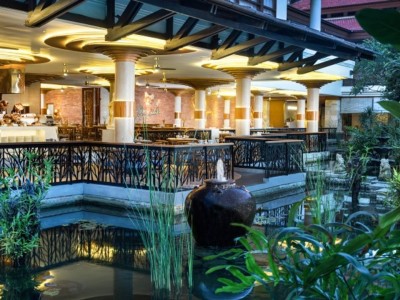 Room Types
Deluxe Room
Room Size: 34 sqm
Bedding: 1 King Bed / 2 Single Beds
Maximum Room Occupancy: 3 Adults or 2 Adults and 2 Child (Below 12 years old)
*Extra bed is compulsory for 2 Adults and 2 Children, please contact Customer Service for booking.

Itinerary
Arrive at Ngurah Rai International Airport (DPS)
Meet greeters at the designated meeting point outside the arrival hall, transfer to Nusa Dua Beach Hotel & Spa Bali at 10 a.m., 1 p.m., 4 p.m. or 6 p.m.
9:00 a.m. - 6:00 p.m.: Welcome table at Nusa Dua Beach Hotel & Spa Bali (hotel lobby)
7:00 p.m.: Enjoy Welcome Dinner at hotel

7:00 a.m. - 8:30 a.m.: Breakfast at hotel
8:30 a.m. - 8:30 p.m.: Full day Ubud Tour
Balinese Dance Class (Approximately 1 hour)
Enjoy lunch at local restaurant
Visit Puri Saren Ubud & Ubud Art Market
Visit Mengwi Royal Temple & Tanah Lot Temple
Enjoy dinner at local restaurant
8:30 p.m. Back to hotel

6:15 a.m. - 7:00 a.m.: Breakfast at hotel
7:30 a.m. - 4:00 p.m. Full day tour to Nusa Penida Island
Speedboat to Nusa Penida Island
Visit Angel Billabong, Broken Beach, Kelingking Beach (West), Atuh, Diamond and Tree House
Enjoy lunch at local restaurant
4:00 p.m. Transfer back to Bali
6:00 p.m. Enjoy farewell dinner at Jimbaran Beach
8:30 p.m. Back to hotel

7:00 a.m. - 10:30 a.m.: Breakfast at hotel
Full day free at leisure
Lunch and dinner at your own expense

7:00 a.m. - 10:30 a.m.: Breakfast at hotel
Free at Leisure until your flight
Check-out by noon
Transfer to Ngurah Rai International Airport (DPS) at 9 a.m., 1 p.m., 4 p.m. or 6 p.m.
Facts to Know
Balinese New Year - Nyepi Day is a day of silence. All businesses are closed, the airport is closed, nobody uses any light or electricity, no vehicles are allowed on the roads, and people stay at home.
Thursdays in Bali are traditional days and people are required to wear traditional clothing and speak only Balinese.
There are just 4 names in Bali, Wayan, Made, Nyoman, and Ketut, and the people know their babes' names before they are even born.
The best time to visit Bali is between April and October, the island's dry season.
Things to note
People aged 65 years old or above are not recommended to take part in this trip, unless health certification provided by certificated doctor and signed disclaimer..
People who suffer from lower back pain or other chronic health disorders and pregnant women are not recommended to take part in this trip.
Guests are required to observe all Safety instructions listed at the attractions spots/activities.
Itinerary for reference only, the time and sequence may be adjusted because of weather or other factors.
Travel visa is at your own responsibility.
Please be sure that the name, gender, and date of birth of the travelers are the same as the travel document and entered correctly. Once the reservation is confirmed, we will not accept last-minute or on-site name change and non-registered guests to join.
Traveller has chronic disease, is pregnant, has disability or special needed should pay close attention to the health condition and consider if suitable to participate in the trip. Our Company reserves the right to ask for a medical certificate or other documentation evidence of fitness to travel.
Remember to purchase appropriate travel insurance on your own; and recognize the scope of coverage, ensure that the insurance you purchase can cover all inclusive and self-paid activities in the itinerary.
Chinese itinerary is translated from English version. English itinerary will be taken as the correct version if there is a difference.
Booking Policies
Booking Policies
Notice period before departure(Excluding the departure date and notification date)
66 days prior

65-51 days

50-36 days

35-16 days

15 days or less
10% charges
Cancellation & Penalty
(Per person per time)
USD $20
Name Change Fees
(Per person per time)
50% charges
Cancellation & Penalty
(Per person per time)
USD $50
Name Change Fees
(Per person per time)
Not Allowed
Cancellation & Penalty
(Per person per time)
USD $50
Name Change Fees
(Per person per time)
Not Allowed
Cancellation & Penalty
(Per person per time)
USD $100
Name Change Fees
(Per person per time)
Not Allowed
Cancellation & Penalty
(Per person per time)
Not Allowed
Name Change Fees
(Per person per time)
Aug 19, 2022 ~ Aug 23, 2022

5

4
Nusa Dua Beach Hotel & Spa Bali
Book By

Jul 15, 2022